The BESA Top Viewer, which is part of the BESA Research Basic package, offers many interesting features to view and analyze your ERP data. Let us just point out some of the lesser known features here:
Change the background color for using Top Viewer in illustrations by choosing "View | Preferences" from the menu. In the dialog box that appears, use the dropdown list in section "Colors" to select "Background" and then press the "Choose Color" button in that section. You can save the Top Viewer display as bitmap or eps file from the File menu.
Show an overplot of all channels by using the "View | Show Overplot Window" menu entry. You can select which channels will be plotted in "View | Select Overplot Channels".
Show an overplot of several conditions. Simply click on the condition label on the top left and hold down CTRL or SHIFT keys to select several conditions. The last condition clicked (bold print) is the relevant one for amplitude displays and mapping.
Show polygraphic, myographic, or virtual channels beside the Top Viewer montage display by using the Additional Channels option (see example screen shot below from a recording with additional FDI channels):
In "Montage | Additional Channels", select the set of additional channels from the list that appears.
Should your channel set not appear, then go back to the Montage Editor and create an Additional Channels montage by pressing the 'N' key to create a new Edit Montage, dragging your channels over to the channel list, and saving it as a user montage (choose Montage type "Additional Channel montage" in the Save dialog box). Then your channel set will be available in the Top Viewer.
---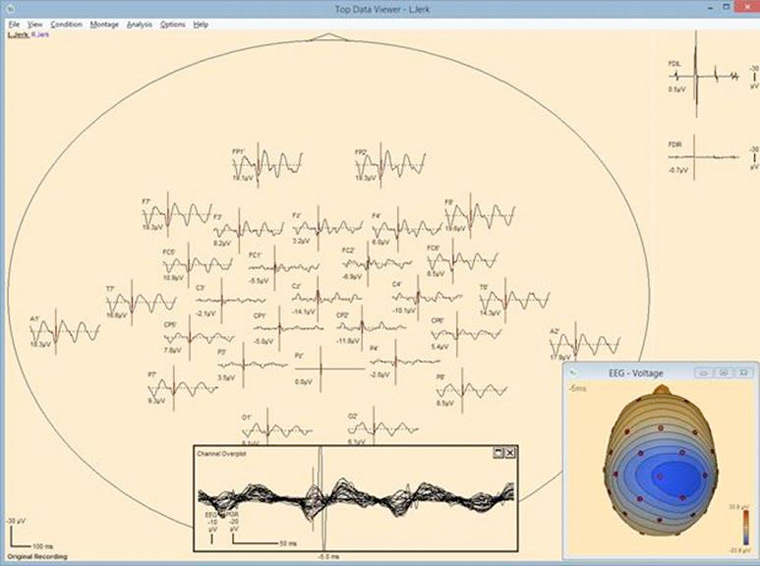 ---